Malaysia: 'Overwhelming evidence' sees Anwar Ibrahim's sodomy conviction upheld
Comments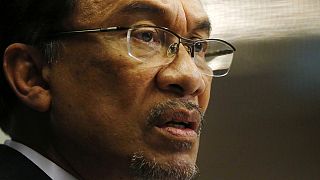 Anwar Ibrahim, Malaysia's main opposition leader, has had his appeal against a sodomy conviction rejected.
In March 2014 an earlier acquittal was overturned and Anwar was jailed for five years on charges of having sex with a male aide.
He has always denied the accusation, but on Tuesday (February 10), Malaysia's top court upheld both the conviction and original sentence.
Outside the court protesters gathered in support of the former Deputy Prime Minister.
Sodomy is illegal in Malaysia, although few people are ever prosecuted, and Anwar and his supporters claim the decision to jail him is political.
"I am innocent," he said before the ruling. "Now, in the event there's a political decision to put me in jail, I understand the system, I've served time in prison… But then this is a price I have to pay."
In bowing to the political powers, you have effectively murdered the judiciary. You chose to remain on the dark side.

— Anwar Ibrahim (@anwaribrahim) February 10, 2015
Upholding the conviction, Judge Arifin Zakat cited "overwhelming evidence" against Anwar.
The popular politician is widely considered the only real challenge to Prime Minister Najib Razak's ruling coalition.
It's the second time the opposition leader has been found guilty of sodomy since his dismissal from government in 1998.
His earlier conviction in 2000 was overturned.