Deadly bombings hit Baghdad as city attempts to return to normal
Comments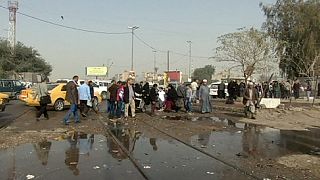 In Baghdad, at least 15 people have been killed and 30 wounded in two bombings in and around the Iraqi capital.
The first attack struck as people headed to work on Monday morning near Adan Square, a predominantly Shi'ite neighbourhood. "This morning at 7:30am (04:30 GMT) a suicide bomber, a young boy, set off an explosive-laden vest here in this busy square, crowded with rush-hour commuters and pupils," explained an eyewitness.
Later on another bomb went off on a main street in a northern suburb. So far no one has claimed responsibility for the attack. However, ISIL militants who control large swathes of northern and western Iraq regularly targets Shi'ite neighbourhoods in the capital.
They are the latest in a string of deadly attacks in the Iraqi capital in the past two weeks.
It comes after the government lifted a night-time curfew on Saturday in the hope of normalising life in the war-torn capital.
Despite a wave of bombings which killed at least 37 people on Saturday, the move was greeted with optimism by some. The captain of a motorcycle team hopes that, "Baghdad can regain its former prosperity and that young Iraqis will start playing the sports they used to play at night."
The Interior Ministry said it does not believe the latest attacks were linked to the lifting of the curfew.