Hirscher stuns Jansrud to clinch super-combined
Comments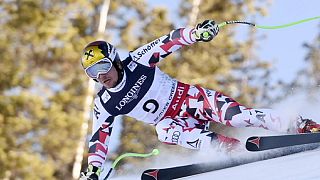 Welcome to Gravity, our weekly show dedicated to Alpine skiing. The World Championships are now in full swing with competitors battling it out in the super combined in Colorado.
Norway's Kjetil Jansrud was leading after the downhill portion but it wasn't to be for the 29-year-old as Austria's Marcel Hirscher made up a staggering 3.16 seconds in the slalom to take gold.
Sitting 30th after the downhill, the reigning slalom world champion dominated his opponents from the outset and completed the Birds of Prey course in a winning time of 49.93 seconds.
Jansrud earned silver while America's Ted Ligety, the defending combined champion, had to settle for third place.
At the summit
Patrick Kung won his first major Alpine skiing title at Beaver Creek on Saturday. The 31-year-old, who made his World Cup debut at Wengen in 2009, clocked an impressive time of one minute, 43.18 seconds, enough to down local hope Travis Ganong.
There was more for Switzerland to celebrate as Beat Feuz completed the podium while defending champion Aksel Lund Svindal continued his impressive comeback with a sixth place finish.
Bode Miller
Bode Miller has crashed spectacularly in the Super-G which was won by Hannes Reichelt. The American veteran suffered a severe injury to his right leg in Beaver Creek and this could perhaps be the last race of his career. It would be a very sad end for this popular skier who definitely deserves to be featured in 'Skiing Past'.
Skiing past
It's the 24th October 2004 and Bode Miller has just won the opening giant slalom in Solden. He now finds himself leader in the World Cup and confirms his position by winning the downhill and Super-G in Lake Louise. He will keep his first place in the overall standings throughout the winter, a feat matched only by Karl Schranz and Ingemar Stenmark before him. The ' Kid from Franconia' will win another crystal globe in 2008, but will have everybody talking about him because of his controversial comments on alcohol and doping, or for his unusual lifestyle and the way he travels around in his camping car.
Analyse this
Anna Fenninger and Tina Maze are tied after the Super-G and the downhill. A gold and silver medal for the Austrian and the same for the Slovenian. Franck Piccard, who was on the podium four times during the Olympic Games and the World Championships reveals his secret for giving a first class performance on the day.
Franck Piccard: ''You prepare for it as you would for any race but you know deep down it's not just any race. That's the real difficulty. It's exactly the same slope but it's as if you are competing in the World Cup, you have to give that extra bit of soul, extra intensity and extra presence so that on the day, you really feel that you are giving the race of the century. And generally speaking, that is what happens when you succeed in this type of competition. You prepare for it as you would for any any event, but you experience it as a great race.''
Snowtime
See you next Sunday for another edition of Gravity. In the meantime, we end the programme with some of the best moments from the Freeride Junior World Championships. The event, which saw America's Jacqueline Pollard and France's Arthur Raskin prevail, took place in Andorra on Sunday. It's snowtime!