US Vice President Joe Biden says Russian President Vladimir Putin has "a simple stark choice"
Comments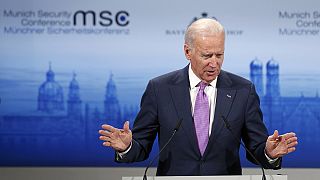 An end to the ten month conflict in Ukraine was the dominant theme at the second day of the Munich Security Conference.
Reports of intensified shelling by separatists on all front lines in the east of the country added impetus to the discussions.
A military solution, supporting Kyiv with defensive aid and Russian President Vladimir Putin's stance were constants in the debates.
"We will continue to provide Ukraine with security assistance, not to encourage war, but to allow Ukraine to defend itself. Let me be clear, we do not believe there is a military solution in Ukraine. But President Putin has to make a simple stark choice. Get out of Ukraine or face continued isolation and growing economic cost at home," Joe Biden, US Vice President told delegates.
Ukraine President Petro Poroshenko took questions from the floor. He ruled out accepting any change to territorial lines enshrined in the Minsk agreement.
It, he stressed was the only way forward.
"We need to have an election, political dialogue, closing the border, withdrawal all the foreign troops, immediate release of the hostages and all other things which are very significant and important component of the peace plan," he said.
Away from the conference French President Francois Hollande who had had discussed a peace plan with Vladimir Putin on Friday said in a visit to Tulle the stakes could not be higher.
"If we don't manage to find – not a compromise, but a lasting peace accord, well, we are perfectly aware of the scenario. It has a name, and that is 'war'," he told reporters.
But the tempo of diplomacy with Moscow has not dipped German Chancellor Angela Merkel, Francois Hollande, Petro Poroshenko and Vladimir Putin are scheduled to resume talks by phone on Sunday.