Robert Mugabe's downfall sparks social media storm
Comments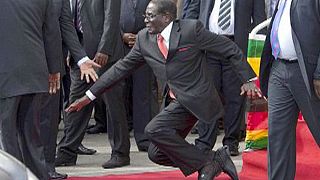 Robert Mugabe has gone down a storm after hundreds took to Twitter to poke fun at his downfall.
The 90-year-old Zimbabwe dictator stumbled on his way to his car after speaking to supporters on a podium in the capital Harare on Thursday.
Photographers were told to delete the photos by his security and Jonathan Mayo, his information officer, told the Zimbabwe Herald: "Nobody has shown any evidence of the president having fallen down because that did not happen."
Mr Mayo later conceded: "The hump on which the president tripped was formed by two pieces of the carpet which apparently had not been laid out properly where they joined.
"And to be honest with you, even Jesus, let alone you, would have also tripped in that kind of situation."
Here are some of the best social media efforts
hahaha, #MugabeFalls is a glorious meme! http://t.co/ItbPskm8Jxpic.twitter.com/lcI95vbYQy

— anne wizorek (@marthadear) February 6, 2015
He came in like a wrecking ball. #MugabeFalls#RobertMugabepic.twitter.com/EalrjpwI9G

— Jordan Metcalf (@JordanMetcalf) February 5, 2015
This #MugabeFalls craziness is solid gold. pic.twitter.com/zlJTh0Y5pV

— Barry Malone (@malonebarry) February 5, 2015
WhoZ bad !!! #MugabeFallspic.twitter.com/cyiX287Kjm

— Matyty C (@Matyzee) February 6, 2015