Jordan's King Abdullah II combines mind, muscle and morality
Comments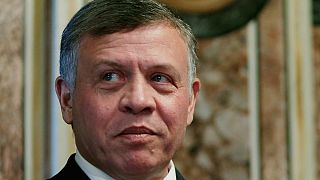 Jordan's king, in the opening to his personal, official profile, states where the legitimacy of his claim to leadership lies. The profile begins: "The 41st-generation direct descendant of the Prophet Mohammad (peace be upon him), His Majesty King Abdullah II assumed his constitutional powers as monarch on 7 February 1999."
Religion and secular rule
First there is his direct link to the Mohammadan religion (Islam), established over 13 centuries ago, and then the modern, democratic constitution.
Right there, in the top line, he names his powers as monarch, at the same time claiming and assuming his responsibility. (It is an affirmation, in formal terms, similar to the sign The Buck Stops Here that was on President Truman's desk in his White House office.)
King Abdullah links his powers to an indisputable higher authority, in the doctrine of Muslims everywhere.
Speaks plainly
He has long had a reputation of speaking candidly, or, some might say, of 'punching above his weight'. To him, it is his job, his duty. He is well known for exercising his critical powers. That he is king of one of the smallest, poorest and most vulnerable Arab nations, what of it?
He unleased a righteous fury with the torture killing of a Jordanian airman held by the radical Islamist group ISIL.
At another level, he suggested that everyone should be punished if convicted of corruption, according to an interview with the New York Times. Yet he insisted that [even] "Members of my family don't get it!"
He does not spare others almost as close to him, criticising tribal leaders who have traditionally formed his Hashemite family's base of support as 'old dinosaurs', feeling that their political programme lacked depth.
Thorough education
Born 30th January 1962, in Amman, he is now 53. His father, King Hussein, named Abdullah, his eldest son, heir on his deathbed. Hussein also exercised a closely considered power of decision. The 'crown' was first going to go to Hussein's brother or to his third son, or a nephew.
Abdullah's education at the Islamic Educational College in Amman was followed by
St Edmund's School, in England, and Eaglebrook School and then Deerfield Academy in the United States.
The Royal Military Academy Sandhurst brought him back to England and a commission as a troop commander in the British Army. He attended Pembroke College, Oxford, for a course in Middle Eastern Affairs. Back across the Atlantic, he capped all this off with studies at the Edmund A. Walsh School of Foreign Service at Georgetown University in Washington.
By way of Jordan's Special Forces, the king is now a major general. (He embedded with Spetsnaz in the Soviet Union in part to prepare reforms.) He is also an aviator (including Black Hawk helicopters).
Censure, reform
When protests in Jordan followed the regional wave of unrest known as the Arab Spring, in 2011 King Abdullah reacted with a top-down shake-up, ordering laws governing politics and public freedoms to be revised, for Jordanians' benefit.
The previous year, the NGO Reporters Without Borders, in its Press Freedom Index had ranked Jordan 120th out of 178 countries. Abdullah also attracted 'deep concern' from the European Parliament when he blocked access within Jordan to some 300 news websites.
The king defends controversial parts of his rule as necessary to protect security in the face of extremism. Already his father had his authority threatened with Jordan accepting so many Palestinian refugees. Lately, NGO Amnesty International, while commending 'tremendous efforts to accommodate half a million refugees', also pointed the finger of blame when Syrian refugees were deported, following a protest at a refugee camp, or for working illegally.
Queen Rania
Abdullah is married to Queen Rania, who is Palestinian, and they have four children, born between 1994 and 2005. Abdullah's mother is British-born Princess Muna al-Hussein (born Antoinette Gardiner), who was his father's second wife. They were later divorced and King Hussein married twice more.
Leisure pursuits
King Abdullah's hobbies include sky diving (though on becoming King he had to stop jumping out of planes), rally racing, scuba diving, football, and science fiction. He even played a walk-on part in an episode of 'Star Trek'. He is actively interested in the film industry, for instance lending dozens of military helicopters to the producers of a 'Transformers' movie being filmed in Jordan.
Western respect
In the deadly real world of fighting Islamist extremism, experts have reiterated the high esteem in which Abdullah's nation is held.
Following the latest ISIL execution of Jordanian pilot Mouath al-Kasaesbeh, praise included, '…highly trained, ability to do difficult things, a military force of high quality.'
The king's revulsion over the killing was reported widely.