Anti-Islam PEGIDA protests spring up in Austria
Comments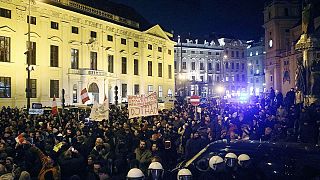 The anti -Islam movement known as PEGIDA which began in Germany has sprung up in Austria drawing hundreds of supporters and counter demonstrators on to the streets of Vienna.
Scores of police were deployed to keep the two sides apart.
The sudden rise of the movement follows Austrian concerns over estimates that about 170 Austrians have joined up with Islamist militant forces fighting in the middle East.
However PEGIDA critics say there is no place for right-wing ideologies in Vienna.
The government has proposed requiring standardised German-language translations of the Koran and prohibiting foreign funding of Muslim organisations on its soil in a draft law aimed in part at tackling militants.