Hezbollah signals de-escalation in fighting with Israel across Lebanese border
Comments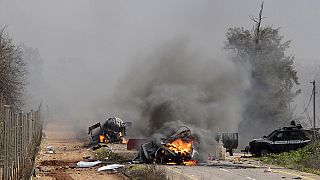 Israel and Hezbollah have reportedly signalled a possible scaling down of fighting in their rare flare-up across the Lebanese border.
Israel says it has received a message from UNIFIL, the U.N peacekeeping force in Lebanon, that Hezbollah was not interested in further escalation.
It comes a day after the guerrilla group killed two Israeli troops in the worst deadly clashes for years.
In response Israel launched an artillery and air barrage from which a Spanish peacekeeper was killed.
Wednesday's incident was the most serious clash on the Israeli-Lebanese border since 2006, when the two sides fought a 34-day war.