Fears of renewed conflict after three die in Israeli- Hezbollah clashes
Comments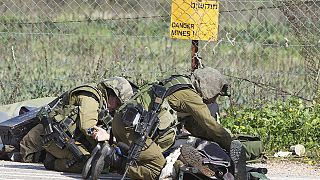 Tensions are on the rise in the Middle East following one of the most violent clashes between Israel and Hezbollah since the 2006 war.
Two Israeli soldiers died when the militants fired anti tank missiles at an Israeli military convoy on the Lebanese frontier – a Spanish peacekeeper was killed as Israel responded with airstrikes.
Wounded soldiers were evacuated to hospital after the incident which has raised the threat of a full-blown conflict between the Islamist group and Israel.
Israel's Prime Minister Benjamin Netanyahu vowed to take action:
"Whoever is behind today's attack will pay the full price. For some time, Iran – via Hezbollah – has been trying to establish an additional terrorist front against us from the Golan Heights. We are taking strong and responsible action against this attempt."
Hezbollah supporters celebrated after the exchange of fire. The group has said one of its brigades in the area carried out the attack which appears to be in retaliation for an Israeli airstrike in southern Syria (Golan Heights) that killed several Hezbollah members earlier this month.