Amman wants proof Jordanian pilot alive as ISIL prisoner swap deadline approaches
Comments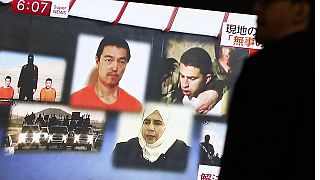 Amman says it needs guarantees the Jordanian pilot threatened by ISIL militants is alive before any prisoner swap can go ahead.
An audio message reportedly from a Japanese journalist held captive by ISIL militants says that the Moaz al-Kasasbeh would be killed by sunset unless an Iraqi prisoner is released.
Kasabeh's plane crashed in northern Syria late last year and he was said to be captured by ISIL militants. His family have criticised Amman for not doing more to secure his release and they were joined by dozens of protesters on Tuesday.
ISIL militants are calling for the release of Sajida al-Rishawi, who is currently on death row in Jordan for a suicide bombing which killed 60 people in Amman in 2005, where her belt failed to explode.
The latest recording extends a previous 24-hour deadline, but does not make clear whether the Japanese hostage Kenji Goto will be released.
His mother made an emotional plea for his life saying she wanted him "to come home safely. All I can do is to trust our Prime Minister. He will protect his people when they're in trouble, whatever it takes."
Jordan's government spokesman Mohammad al-Momani said it was coordinating with Japanese authorities to secure the release of the Japanese hostage.