ISIL sets new deadline over fate of two hostages
Comments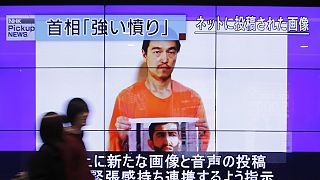 An unverified voice recording purporting to be
from a hostage being held by Islamist extremists has been posted on social media.
It is believed Japanese journalist Kenji Goto is heard to say that a Jordanian pilot also being held captive will be killed unless a female Iraqi suicide bomber being held on death row in Jordan is released by sunset Thursday.
The prisoner is Sajida al- Rishawi is an al Qaeda militant who was involved in bomb attacks in Amman in 2005 which killed 60 people.
However the voice on the tape does not make it clear if both men will be exchanged for her freedom.
Japan's prime minister says his government is co-operating with Jordan. Speaking in parliament Prime Minister Shizo Abe said: "ISIL's terrorist activities which have involved innocent civilians, are a despicable act of terrorism and are absolutely unforgivable."
In Amman the father of captive pilot Muath al Kasaesbeh visited Jordan's King Abdullah for reassurance. He told supporters that the King said was every effort was being made to secure his son's release.
The Jordanian government has said it is ready to do a prisoner swap but was waiting for proof that the pilot is alive and well.