Mubarak sons released from jail in Egypt pending retrial
Comments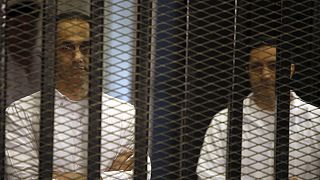 The sons of deposed Egyptian president Hosni Mubarak were freed from jail on Monday, a day after the violent fourth anniversary of the uprising that ended their father's long rule.
The release of Alaa and Gamal Mubarak, pending their retrial in a corruption case, was ordered by a court last week.
The move could fuel tensions. At least 25 people were reported dead in Egypt on Sunday's anniversary when anti-government protesters clashed with security forces.
Hosni Mubarak himself is still detained in a military hospital, but judicial sources said he could soon walk free as he currently has no convictions against him.