Police and protesters clash during anti far-right march in Italian town
Comments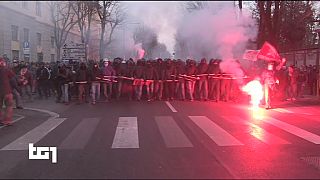 Police have used tear gas to disperse protesters marching against far-right groups in the northern Italian town of Cremona.
Some of the demonstrators threw stones and flares at officers, as well as smashing shop windows.
The crowd had turned out in a show of support for far-left activist Emilio Visigalli, who was attacked earlier this month – allegedly by members of a far-right group called CasaPound.
Visigalli remains in a serious condition in hospital.