Dresden holds first PEGIDA protest since founder's 'Adolf Hitler' photo blunder
Comments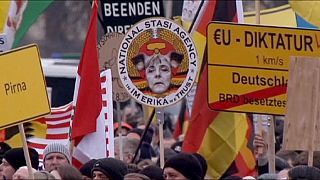 Thousands of supporters of PEGIDA (Patriotic Europeans Against the Islamisation of the West) gathered in the German town of Dresden on Sunday for an anti-Islam protest.
One of the group's founders, Lutz Bachmann, recently resigned after German media published Facebook messages in which he called refugees "dirty" and posed as Adolf Hitler.
Protesters waved German, Russian and Nordic Cross flags and shouted "we are the people," the slogan used by demonstrators against the Berlin Wall in 1989.
Some protesters carried banners denouncing "Islamisation" and rejecting the TTIP (Transatlantic Trade and Investment Partnership) trade agreement with the US.
One protester said "My ideal is lawful and ordered immigration. We need expert know-how. Let's spell it out: we have enough kebab shops!"
Counter demonstrations were held in the same square where crowds chanted "Say it loud, say it clear, refugees are welcome here!"
Counter-protesters waved "no racism" banners and the LGBT (lesbian, gay, bisexual and transgender) flag, while shouting at the PEGIDA supporters: "there is no justification for Nazi propaganda."