PEGIDA leader quits amid Hitler photo row
Comments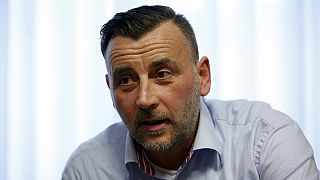 The leader of the anti-Islamisation PEGIDA movement in Germany has quit after a photo of him posing as Hitler was published in the Bild newspaper, throwing its future in doubt.
Lutz Bachmann resigned with an apology to all those he offended over comments he made on Facebook where he apparently called refugees 'animals' and 'scumbags' but made no reference to the photo.
He now finds himself at the centre of a criminal investigation for incitement to racial hatred, after prosecutors opened preliminary proceedings after the publication of the Bild report.
The news came just as thousands of PEGIDA supporters were staging a march in the eastern city of Leipzig.
The group has attracted thousands to regular rallies in Dresden with its anti-immigrant rhetoric, but the focus has switched to Leipzig after the Dresden marches were banned amid death threats against one of the movement's leaders.
Police were dispatched to Leipzig to prevent clashes with anti-PEGIDA protesters who turned up to the event, though there were no reports of violence.