Japan outrage at ISIL claims it has executed hostage Haruna Yukawa
Comments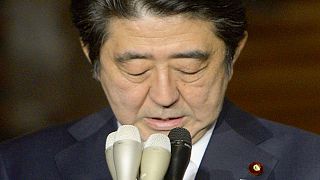 Japanese Prime Minister Shinzo Abe has expressed anger after ISIL claimed it had executed hostage Haruna Yukawa.
The militant group issued a video containing an audio message for the first time, instead of footage of the killing.
Abe insisted Tokyo would not bow to terrorism.
He reiterated the government's view that the video, which appeared to show a still image of the executed Haruna Yukawa with the voice of captive Kenji Goto, was "an outrageous and unacceptable act of violence".
"I have a strong sense of anger," Abe told reporters in brief remarks after an emergency cabinet meeting to discuss the crisis. "We will not give in to terrorism."
Demanding the immediate release of journalist Goto unharmed, Abe said Japan will work with other countries to secure his release. He did not take questions from reporters.