Activists pile pressure on Saudi Arabia's new king to clean-up human rights record
Comments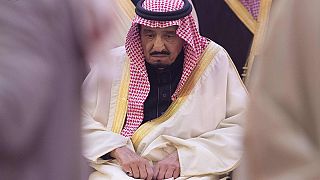 Activists say they fear Saudi Arabia's new king will not do enough to clean up the kingdom's human rights record.
As King Salman took up power, protesters gathered in Paris to call for the country to free blogger Raif Badawi.
He has been sentenced to 10 years in jail and one thousand lashes for insulting Islam and cyber crime among other charges.
"We hope that the international pressure in that case, the Raif Badawi case, will be a success. And that the new King Salman will pardon Raif Badawi and that really things will change in that country," said Christophe Deloire, General Secretary of Reporters Without Borders (RSF).
King Salman has pledged continuity since succeeding his brother Abdullah, who died early on Friday.
It is not the commitment activists wanted to hear, as they accuse Saudi Arabia of multiple human rights abuses.
The Paris demonstrators were set to submit a petition, bearing 50-thousand signatures, to the Saudi Embassy – to increase pressure for Badawi to be pardoned.