Late Saudi King Abdullah receives simple, traditional burial
Comments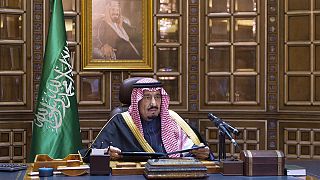 The body of Saudi Arabia's late King Abdullah, one of the richest men in the history of the world, was carried to his funeral in a simple shroud in keeping with tradition.
He is succeeded by his half brother Crown Prince Salman, who is believed to be 79. He has already addressed the nation on state television.
Abdullah was buried after afternoon prayers.
One of Salman's first actions has been to immediately appoint his half-brother Muqrin as his crown prince and heir in a move seen as ensuring there was no power struggle in coming years.
King Salman has been one of the ruling princes for decades. It is thought he will continue working towards energy market stability and the main thrusts of Saudi strategic policy including maintaining the alliance with the United States.
In keeping with the ruling family's beliefs, there will be no official mourning period in Saudi Arabia. Flags around the kingdom are flying at full staff.
The Saudi state brand of Wahhabi Sunni Islam holds ostentatious beliefs of grief or mourning to be sinful, akin to idolatry.
Saudi government offices, closed for the Middle East's normal Friday – Saturday weekend, will open as usual on Sunday.