Police in Italy reveal recovered antiquities worth a record 50 million euros
Comments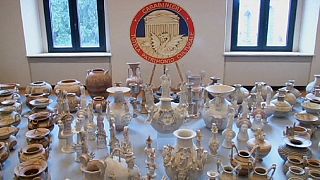 A record haul of stolen archaeological treasures worth up to 50 million euros has been put on display by police in Rome.
The 5,361 vases, bronze statues and other ancient works, dating back to the 8th century BC, were found in warehouses in Switzerland, having been illegally taken out of Italy.
They may now be put on public display.