Italian police break up mafia drug ring in Rome
Comments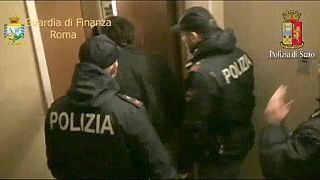 Police in Rome have broken up a mafia drug ring arresting 26 people and seizing more than 600kg of cocaine and hashish.
Those arrested were members of the infamous Ndrangheta mob which has turned its attention from the deep south towards the capital as part of a money laundering project.
Anti-mafia magistrate Michele Prestipino says the Rome marketplace is strategic and helps mafia clans to accumulate criminal and economic power.
The group had also bases in Genoa, Turin and Milan and liased with drug cartels in Colombia in South America.
During Tuesday's operation police in Spain also detained four other suspects.