Historic talks begin on the future of Cuban-US relations
Comments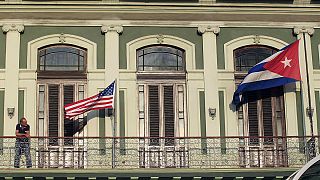 The first official talks in more than half a century between the USA and Cuba begin today in Havana, and a delegation headed by Senator Patrick Leahy has arrived in the Cuban capital.
Leading the talks will be the US's top Latin America diplomat, Roberta Jacobson, and hopes are high that a recent warming in relations will lead to significant breakthroughs.
"I hope more businesses will open, that there will be more tourists and that the market broadens, with more food and spare parts coming in, that more of everything that we need here in Cuba comes in," said one man.
"In unity there is strength and we think that everything is going to be much better," said a woman.
President Raul Castro is taking a much more open line than his brother Fidel, agreeing to prisoner exchanges and freeing up aspects of the economy, as much by necessity as choice, as Cuba no longer has the Russian or Venezuelan financial support of previous years.
However there is a strong lobby in the USA led by Cuban exiles against granting concessions before the Communist regime is ended for good.