A brief history of US-Cuba relations
Comments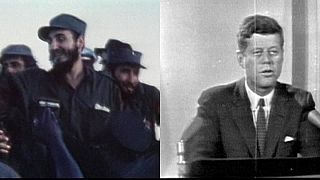 The US and Cuba have had no diplomatic relations since 1961, but the breakdown of relations came steadily after the revolution in 1959 which brought communist leader Fidel Castro to power.
By 1960 Castro's government had seized private land and companies, some of which were US subsidiaries. President Eisenhower began restricting trade with the island nation but it was President Kennedy who established a permanent embargo on February 7 1962.
The tensest moment came in October of the same year when US spy planes found evidence of Soviet missiles being built on Cuban soil. The Cuban missile crisis was defused when Soviet leader Kruschev and President Kennedy struck a secret deal to remove US missiles from Turkey. Soviet missiles left Cuban soil, but the damage was done.
The US strengthened embargo rules in 1992 and 1996. The last decade has seen restrictions relaxed and tightened depending on the political climate.