Greek voters crave education and health rescue
Comments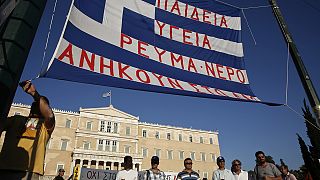 Education and health care are core institutions in any society. Greece has always had problems in these vital areas, the debt crisis only made them worse. There have been harsh cuts in services and salaries. Many parents, students and teachers feel that education must figure highly politicians' list of priorities, but that it doesn't.
High school teachers Nikos and Maria Katsoulis, who have four children, said:
"All families with numerous children have great trouble making ends meet. All teachers, too, as most of us are part-time."
"I believe that learning in Greece exists based on teachers' good will, faith and commitment to change things and to provide for our children as best we can. Parents do the same."
Things are even more difficult for teachers forced to take administrative leave.
Nikos Kiriakidis, a graphic arts teacher, who has been eager to get back to work for a year and a half, said:
"I've had nowhere to go. I've been staying home, dealing with family, cooking, sending home-made food to my daughter who is a student in Thessalonica, helping my son… so that I don't end up on anti-depressants, so that I don't feel useless, so that I don't feel I wasn't doing my job well."
In Nikos' own words, what Greek education lacks is vision.
Vision needs to be backed by money, Dimitris is well aware. He is a university student of the austerity memorandum generation, as he calls it, demanding substantial help from the next government.
He said: "We expect generous funding. Among all the member states of the EU and in the eurozone, Greece is one of the lowest spenders on education services."
Greece spends just over 4 percent of its GDP for education, well below the EU average of over 5 percent (6 Percent in the UK), with raised risks of school dropouts and lower prospects for graduate employment.
Where students are vulnerable, other groups are even more vulnerable when it comes to health care, where the consequences of the crisis have been heavy for many Greeks, notably the elderly.
As one pensioner we spoke to put it: "Everything just fell apart. We can't find doctors, medication is more expensive. Cheaper generic drugs make some people sick. Sometimes people go without bread to be able to afford their medicine."
Health care spending has been slashed by roughly one billion euros over three years, to 4.22 billion euros in 2015.
Millions of Greeks rely on free clinics for care.
General practitioner Evangelos Fragoulis said: "As state-provided healthcare in Greece is associated with one's work status, a massive wave of around two million people losing their jobs meant they lost their social security."
Another consequence of the crisis is reduced employment security and pay for doctors. Thousands of them have left Greece seeking better prospects abroad.
Fragoulis said: "In the past six years, 7,500 doctors from the Athens Medical Council alone have left the country to seek better jobs, mainly in the UK, Scandinavia and Germany."
Fears for the once universal welfare system and schooling opportunities in Greece have grown intense as austerity policies have shrunk funding.
Our correspondent Nikoleta Drougka summed up: "Greek voters will go to the polls on Sunday tired and disappointed. Health care and education difficulties have made them feel like second-class citizens. They expect the next government to end that feeling, with action."