Islamic State militants demand $200 million ransom for Japanese hostages
Comments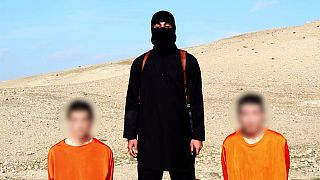 The militant Islamic State group is demanding $200 million from Japan to free two of its citizens.
In a video posted online, a black-clad figure wielding a knife is stood by two kneeling men wearing orange clothing. Speaking in English, the militant said the Japanese public had 72 hours to pressure their government to stop its "foolish" support for the US-led coalition waging a military campaign against ISIL.
The militant, who speaks with a British accent, appeared to have the same voice as a jihadist shown threatening captives in previous Islamic State videos.
The film identified the captives as Haruna Yukawa and Kenji Goto.
On a visit to Cairo three days ago, Japan's Prime Minister Shinzo Abe pledged around 200-million dollars in non-military assistance for countries battling Islamic State.
Speaking today in Jerusalem, he described ISIL's threat as unacceptable, adding "the international community needs to respond firmly and cooperate without caving in to terrorism".
In Tokyo, Japan's foreign ministry said it was verifying the authenticity of the video to see if the footage was genuine.