Thousands march for journalist Dink murder anniversary
Comments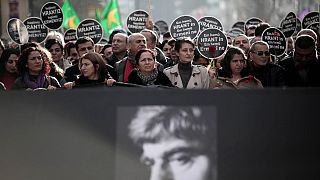 Thousands of people have taken to the streets of Istanbul to commemorate the death of journalist Hrant Dink, eight years ago.
The prominent ethnic Armenian editor was gunned down outside his newspaper office in broad daylight and many feel angry that his murder , blamed on a conspiracy, remains unsolved.
"There is an unfinished case in which those responsible are unknown. Actually it is clear who they are but there's cover-up. I am a Turkish citizen, I'm Turk and Armenian as well. This kind of incident is hurting us. We feel bad. We want those responsible to be punished soon," said one protester.
For seven years there was no progress in the case until last year when the Supreme Court decided to investigate whether he was the victim of organised crime. According to our correspondent, that's led to the detention of several police officers.
"Dink's friends are more hopeful this year for justice, since the police officers who are accused of his death were arrested last week," said Bora Bayraktar.