20 years on, Kobe in Japan remembers its earthquake victims
Comments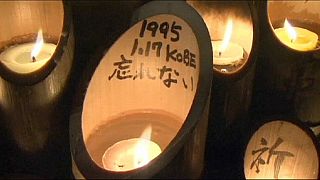 Kobe is marking the 20th anniversary of its devastating earthquake.
Ceremonies are being held in the Japanese city to remember the almost 6,500 people killed in the disaster.
One elderly man told reporters: "Time has stopped for me, and the memory of 20 years ago has frozen inside my heart.
"No matter how much time passes, it doesn't disappear."
Bamboo lanterns – one for each victim – have been lit by survivors and family members of those killed.
The city of 1.5 million was virtually destroyed in the 7.3 magnitude quake.
It struck in the early morning while many residents were still asleep.
Prayers were said at 5:46 am on Saturday, the exact time of the quake on January 17, 1995.
Most of the victims died in collapsing homes or from fires that raged throughout the city.
The equivalent of more than 100 billion euros has been spent on rebuilding work.