Merkel honours 17 victims of Paris attacks in Bundestag
Comments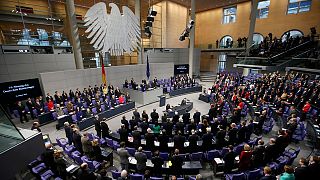 The German parliament held a minute of silence to honour the 17 people killed in last week's terror attacks in Paris at the French satirical newspaper Charlie Hebdo, on the streets of the capital and at a kosher supermarket.
German Chancellor Angela Merkle then addressed lawmakers: "We Europeans can say that after all the horrible events of the past, we finally found a way of living with our diversity, in a way that makes the best out of this diversity. We can say that tolerance is what enables us to do so."
Merkel said that the people of France and Germany are linked by a special friendship and solidarity,and stand together in the fight against Islamist violence and anti-Semitism.