Charlie Hebdo: Muslim anger at defiant Mohammad front page
Comments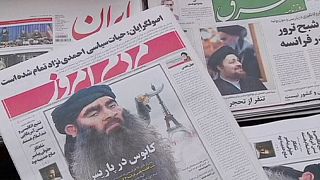 While many in France support Charlie Hebdo's decision to put a new cartoon of Mohammad on its cover, others fear it will just provoke more tension.
And for religious reasons, some French Muslims strongly object.
"It is a country of freedom of expression. So let me express myself," said one woman in Paris.
"I am against what Charlie has said because it is a strong attack on our prophet, who is sacred. They can attack my father, my mother or my children but not our prophet. It is not good."
But on the outskirts of the French capital, another woman saw things differently.
"I believe we all have the right to humour and caricatures.I don't see why we should prevent ourselves from laughing".
In Iran where newspapers printed their own satirical cartoons aimed at ISIL fundamentalists, authorities condemned the Charlie Hebdo front page for offending Muslim sensibilities.
Many in the Middle East are angry – not least in the Gaza Strip where the French publication was slammed as dangerous and something that could create a backlash.
"We say that the pernicious work the newspaper has done will cause harm to Muslims and Europeans because it is a clear provocation," said Gaza resident Mohammad Al-Ghazali
For the highly influential Grand Mufti of Jerusalem and Palestinian lands, such cartoons "fuel feelings of hatred and resentment among people" and publishing them "shows contempt" for Muslim feelings.