Wester and Sildaru win Freestyle World Tour opener
Comments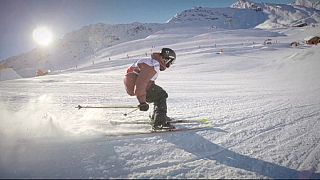 The worlds best slopestyle skiers gathered in the Val Thorens for the first stop on the 2015 SFR Freestyle World Tour.
After an excellent 2014 Sweden's Oscar Wester kick-started this season in similar fashion.
He celebrated his second consecutive slopestyle victory at the French Alps resort ahead of Swiss skier Fabian Boesch.
In the women's event 12-year-old Estonian prodigy Kelly Sildaru took top honours.
Although she is too young to participate in the upcoming X Games or the World Championships for that matter he win does secure he a place at the Tour finals in La Clusaz.
France's Coline Ballet Baz claimed second place on home snow.