Turkey: Publication of Charlie Hebdo excerpts sparks strong reactions
Comments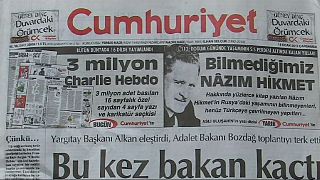 Turkish opposition newspaper Cumhuriyet has printed a special section of excerpts from French satirical magazine Charlie Hebdo.
The section does not feature the cover cartoon of the Prophet Mohammad although small black-and-white versions of the image do appear on opinion columns inside.
Police cordoned off Cumhuriyet's Istanbul headquarters over security concerns and searched trucks leaving its printing press.
At the paper's Ankara offices, protesters hung banners on a nearby wall that read: "The Charlie provocation continues".
Editor Mustafa Kemal Erdemol regrets the fact the paper's bosses were not willing to go further, telling euronews that publication challenges the perception that Islam is intolerant.
"Cumhuriyet is trying to help change that," he said.
"I mean for some people this is being used as a pretext to kill. But by publishing we are showing that reasoning to be wrong."
A Turkish court has ordered some website pages that reproduced the Charlie Hebdo cover image to be blocked.
On the streets of Istanbul, opinion is mixed.
"I am in a dilemma," one man told us.
"When I look at it from the point of view of freedom of the press, it should be published. But from the point of view of respecting different beliefs, in the Islamic world drawing a Picture of Mohammad is not accepted. That is what Muslim people believe. I think Westerners should respect that."
"Because of freedom of thought, everyone must write whatever they want to," another man said.
"Freedom depends on the rights of minorities. Everybody is free when minorities have freedoms."
But the publication in Turkey was slammed by another man.
"I condemn this act," he told euronews.
"This is a Muslim country and these kinds of actions are not good. It is not good to caricature our dear Prophet and it is not welcome in an Islamic society."
Freedom of expression versus respect for religion? That is the debate behind the Charlie Hebdo tragedy.