Islamic centre Al-Azhar calls on Muslims to 'ignore' Charlie Hebdo
Comments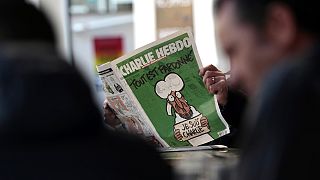 Charlie Hebdo's front page drawing of the prophet Mohammad has been condemned by religious authorities based in Egypt.
The Islamic educational institute Dar Al-Ifta, which issues religious edicts, called it an "unjustifiably provocative" act that would cause a "new wave of anger".
The leading centre for Sunni Islam Al-Azhar described the publication as "repellent" and "disgusting" but called on Muslims everywhere to ignore the cartoons.
"People's opinions should not hurt the feelings of others – that's what Islam taught us – and we ask all Muslims to ignore this work, not give it any attention, not even talk about it, to avoid reactions, especially violent reactions, because things could get out of hand,"​​ said the head of the institute's Council of Senior Scholars Abbas Shoman.
Last week Al-Azhar condemned the attack on Charlie Hebdo, saying "Islam denounces any violence".
President al-Sisi condemned it too, expressing his solidarity with France.
Euronews correspondent in Cairo Mohammed Shaikhibrahim said:
"Charlie Hebdo magazine lost a lot of solidarity among Muslims here after re-publishing the cartoons of the Prophet Mohammad, amid calls from religious institutions to show restraint and a spirit of tolerance​."