Where's Charlie? Distribution challenges of matching supply with demand for magazine
Comments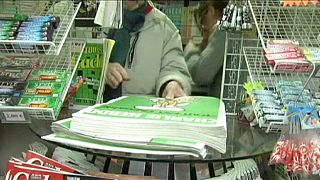 The distribution company charged with delivering the latest edition of Charlie Hebdo around France operated at full tilt to meet its targets.
A recording breaking 5 million copies were scheduled for printing in the first run, with a further 300,000 destined for shipping abroad
Eric Desmarey, Sales and Marketing Director of MLO gave Euronews an idea of the extent of the operation: "There were lots of trucks where normally we'd have one or two. We had around 20 trucks. In terms of staff taking calls from news agents, magazine kiosks, big stores who circulate the press… we had to reinforce our teams. We increased operations tenfold. There were around 30 people here taking phone calls," he said.
"Right now, we can distribute around 600,000 copies per day, he added.
"In general, they stay on sale for eight days. This edition is going to stay on sale for two months and we'll resupply the traders if where necessary. We'll send more copies of Charlie Hebdo to the shops."
Demand has also been soaring for the previous edition, with copies selling for large sums on the internet. But it won't be reproduced, Demarey said."
"The editors are committed to not reprinting the second last edition. We prefer to put everything into the survivor's issue rather than the previous one which is so closely linked to the tragedy," he said.