Survivors' edition 5m copies smashes record
Comments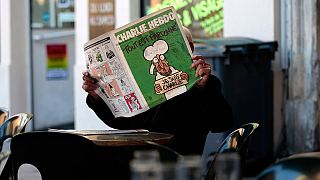 Early risers making their way to Charlie Hebdo sales points across France were rewarded with the first copies of the satirical newspaper special issue to hit the stands. Selling fast, outlets will be replenished.
The so-called 'survivors' issue' defiant release came just seven days after terrorists murdered core contributors in their headquarters.
The front page is another caricature of the prophet Mohammed, above him the words 'all is forgiven'; he is holding the solidarity sign, 'I am Charlie'.
The cartoonist Luz said the drawing was born from the survivors' laughter and tears: "This cover was hard to get out, like it was hard accepting the death of our friends."
He left readers to interpret the front page in whatever way they choose.
Charlie staff put this issue together in the offices of the newspaper Libération.
It marks Charlie Hebdo's global launch, to feature in more than 20 countries and multiple translations.
Gerard Briard, the magazine's editor-in-chief, said: "This number, for an overwhelming majority of readers, will be a discovery. They'll know what it is, what we stand for."
Queues had been expected for the planned print run of five million copies, smashing the previous two million record set when leader Charles De Gaulle died in 1970.
At one typical sales stand in Paris, the vendor said: "I have never seen a queue outside my door, in all my 20 years here, never one like that."
Charlie Hebdo's typical print run was 60,000, which it couldn't always sell. The number of readers now is unprecedented.
One new buyer said: "It's important for me to pick one up, to get to know Charlie Hebdo. I might buy it from now on. Seeing the way things are, I think more or less everyone in France today is going to buy Charlie Hebdo."
Another Frenchman at the kiosk added: "It symbolises free speech. I wasn't a regular reader of Charlie Hebdo but that's going to change."
Followed by: "You've got to have Charlie. We are all Charlie."
The newspaper emerged from the 1968 counter-culture movement, with a scathing attitude to established views. Its modern defenders have praised the cover as 'in character' for Charlie Hebdo, insisting it conveys a peaceful message.