Female terrorism suspect hunted by French police reportedly in Syria
Comments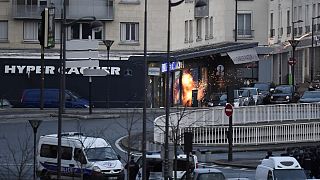 The alleged accomplice of a suspected Islamic terrorist said to have killed five people in Paris this week is reportedly not in France.
Hayat Boumeddiene is believed to have travelled to Syria via Turkey a week ago.
Police have described the 26-year-old as "armed and dangerous".
A French state radio station, France Info, is quoting sources as saying that Boumeddiene left France for Turkey on January 2. She is said to have gone on to Syria six days later.
The French news agency AFP also quotes a police source as saying Boumeddiene is no longer in France.
French hunt for gunman's girlfriend after bloody siege finale http://t.co/TdIxtZ0P4T

— Agence France-Presse (@AFP) January 10, 2015
Boumeddiene was thought to have been present when her partner Amedy Coulibaly allegedly shot dead a policewoman on Thursday. He is also accused of taking numerous people hostage at a Jewish supermarket on Friday.
The siege ended in a hail of bullets as police stormed the building. Coulibaly is believed to have killed four of his captives before police launched their assault.
The drama came just two days after 12 people were killed in an attack on the Paris office of the satirical newspaper Charlie Hebdo.
The attacks have been praised by the head of Al Qaeda's North African branch, who described the gunmen as "knights of truth". The group has also threatened France with more attacks.
The French president convened his cabinet for an emergency security meeting on Saturday to discuss the situation.
Afterwards the Interior Minister Bernard Cazeneuve said the country's highest security level would be maintained for the next few weeks.
Prime Minister Manuel Valls has already admitted that "if 17 people died, then (intelligence) mistakes have been made".
In total 20 people are dead, including the two main suspects behind the attack on Charlie Hebdo.
The brothers were killed by police on Friday after a nine-hour standoff as they sought to hide inside a printing factory in northern Paris.
Many questions are now being asked as to how the pair, who were on EU and US watch-lists, managed to acquire their heavy arsenal of weapons.
The 20 people dead after the 72 hours of violence included:
- 10 people killed at the Charlie Hebdo office – 2 policemen, including a protection officer – 1 policewoman shot dead in Montrouge in Paris – 4 hostages at the kosher supermarket in Paris – 2 brothers accused of the Charlie Hebdo massacre – 1 hostage-taker at the kosher supermarket
SECOND Appel à témoins #Fusillade#Montrouge Contacter le 0805 02 17 17. En savoir plus >>> http://t.co/8c2UJGQQJypic.twitter.com/n5h5e6Yb1b

— Préfecture de police (@prefpolice) January 9, 2015