Relief in Dammartin at outcome of France terror siege
Comments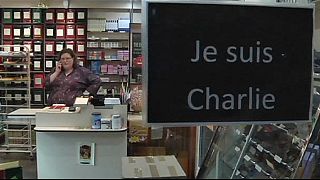 Two brothers wanted for a bloody attack on the offices of French satirical newspaper Charlie Hebdo were killed on Friday when anti-terrorist police stormed their hideout, while a second siege in Paris ended with the deaths of four hostages.
As police launched their assault on the print works at Dammartin-en-Goele where the two suspects had been holed up, the Kouachi brothers charged out and opened fire, according to the Paris prosecutor. They were killed in the shootout.
A man in his twenties emerged unscathed. He had hidden inside the building, unbeknown to the gunmen.
Local shop owner Monique Dagobert knows him.
"When we heard about the happy outcome, it was 'phew', we felt relieved. So we're happy now, we sent a text message to him and his wife and we asked him to tell us, whenever he can, that everything is ok," she said.
The young man had reportedly made contact with police and provided information from his hideout.
For the authorities in the small town near Paris' main Charles de Gaulle airport, an intensely stressful day was over.
"Once again I'm going to express our relief, the relief of everyone, of all the local residents in the area, because this happened in a densely populated zone: there are children, secondary school students, people at work. The company which the two men infiltrated is one we know well, we know the bosses. So we are really relieved to see that it ended up this way," said councillor Bernard Corneille from the Seine-et-Marne department.
The two brothers had a skirmish with police at a roadblock earlier in the day, leading them to take refuge at the print works. The manager was reportedly taken hostage by the gunmen for around an hour before being released.
Before his death, one of the brothers said he acted on behalf of al Qaeda – a claim some experts are treating sceptically.
Reporting from Dammartin, euronews correspondent Olaf Bruns said:
"With the end of the manhunt here in Dammartin, a drama comes to an end and it has left the country with a bloody wound. France will need time to recover its calm… if indeed that is possible."