Italian police uncover huge fake euro banknote factory near Naples
Comments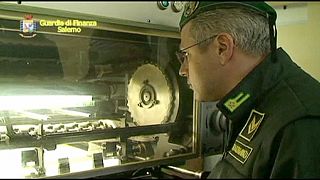 Italian police have made one of their biggest seizures of fake currency for years.
They say unfinished 50-euro banknotes worth more than 50 million euros, along with sophisticated printing presses, were discovered inside the warehouse of a sewerage plant south of Naples.
A court has ordered the arrest of five men for allegedly running the operation.
It's estimated that half of all the fake notes in the eurozone are printed in the area.