Paris slaughter condemned by world leaders
Comments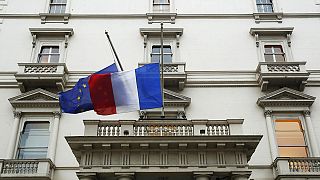 German Chancellor Angela Merkel has condemned the slaughter in Paris and added in her statement, "It is also an attack on freedom of speech and the press, core elements of our free democratic culture. In no way can this be justified." Those sentiments echoed across the boundaries of Europe.
"On behalf of the European Parliament," said European Parliament President Martin Schulz, "I wish to express our condolences, we condemn violence. We also want to say these people cannot move us from the values of our society, mutual respect and freedom of expression are not negotiable."
British Prime Minister David Cameron addressing Parliament said. "I know that this house and this country stands united with the French people in our opposition to all forms of terrorism and we stand squarely for free speech and democracy and these people will never take us off those values."
The Turkish Foreign Affairs Minister Mevlut Cavusoglu also spoke out against the attacks one day after a suicide bombing at a police station in Istanbul: "We should struggle against all forms of terror Unfortunately the struggle against terrorism in today's world is insufficient. Our religion is a religion of peace, its meaning is peace so connecting terror to Islam is absolutely wrong."
There was a statement from the Vatican which called the killings "abominable" because it was an attack against people and the freedom of the press.
It is understood Pope Francis is likely to issue a personal condemnation later on Wednesday by sending a message to the Archbishop of Paris.
Saudi Arabia, the birthplace of Islam, said that it "strongly condemns and denounces this cowardly terrorist act that is rejected by true Islamic religion as well as the rest of the religions and beliefs."