Condemnation of the Paris killings from the US
Comments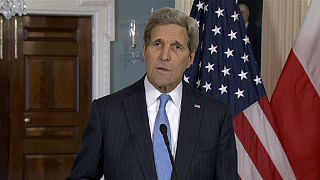 US Secretary of State John Kerry took the opportunity of a news conference to speak directly to the French people saying they have the support of all Americans.
France, he said, knows well the price of freedom because it was in France many democratic ideals were born.
"I agree with the French imam of who said today that the murdered journalists are martyrs to freedom. The killers proclaimed today that Charlie Hebdo died. Be sure of one thing. They are wrong. Today, tomorrow, in Paris, in France and across the world the power of free speech will win the fight against deliberately preventing the facts becoming known," he said.
From the White House President Barack Obama said that the US was in touch with French officials and that America will provide any assistance needed to bring the killers to justice as he condemned what he called the "cowardly, evil" attack.
"The fact that this was an attack on journalists, an attack on our free press, also underscores the degree to which these terrorists fear freedom of speech and freedom of the press," Obama said.
FBI Director James Comey also said the US agency is working with French law enforcement.