Car bomb in Yemen kills at least 30 outside Sanaa military college
Comments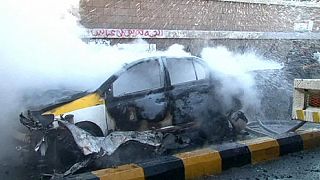 No-one has yet claimed responsibility for the car bomb that exploded in the Yemen capital Sanaa outside a military college, killing at least 35 people according to Turkish media, and wounding more than 50 others.
Most of the victims were students from the college and people queuing to enrol in the police force.
Sanaa came under the control of the Shia Muslim Houthi militia in September as a three-year long security crisis came to a head with splits in the army, weak government, and a terrorism campaign by the mainly Sunni Muslim local branch of al-Qaeda.
On New Year's Day a suicide bomber attacked a cultural centre in the central city of
Ibb killing at least 26 people in what appeared to be a deliberate targeting of Houthis.