Kobani remains key battleground for ISIL as Kurds push the militants out
Comments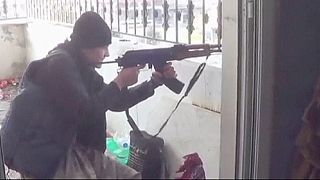 Peshmurga fighters are continuing their assault to retake the Syrian town of Kobani from ISIL fighters, but the Islamic extremists are making the Kurds fight hard for every street of the increasingly wrecked town.
Having fought for months to get a toehold near the Turkish border, ISIL does not want to surrender it cheaply and the Kurds are taking the fight to the gunmen mostly alone, as alliance airstrikes are now less than useless at winkling militants out of the urban rubble.
However airstrikes around the town continue, and the Kurds are getting help from the Iraqi army on the ground.
It is estimated hundreds of fighters have died on both sides since the battle for Kobani began in September.