Two children pulled from rubble after deadly landslide destroys homes in Bosnia
Comments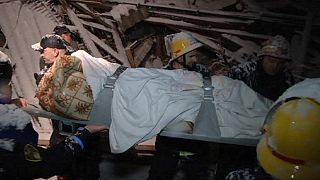 A landslide destroyed several houses in the central Bosnian town of Kakanj, leaving one person dead and three injured, according to police.
Among the injured, two children were pulled alive from the rubble by rescue services just hours after the incident.
The town's mayor, Nermin Madra, said there were no serious cases among those hurt.
"The injured ones are okay, none of their vital organs are damaged, most injuries are on the limbs. Their limbs were jammed in the rubble, so they got broken limbs, and they are all in shock."
According to preliminary reports, seven houses were destroyed as land, roughly 500 metres in diameter, moved.
The houses were built on top of a former coal mine that was closed down 50 years ago.
Illegal building in Bosnia is widespread, as the country is struggling with economic turmoil since the end of the war in the 1990s.
Many poor families build their homes in landslide areas, as prices for such land is cheap.
Permits for building in these areas were never obtained, but families continue to live in them.