Fire hinders search for victims of Norman Atlantic Ferry
Comments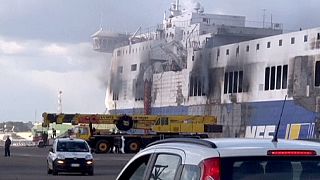 Fierce heat and thick smoke continue to hamper the search for victims aboard the Norman Atlantic Ferry one week after it caught fire en route from Greece to Italy.
Investigators say it may be a few days before the fire can be completely extinguished.
Forensics experts are still yet to reach the lower decks of the vessel docked in Brindisi.
"On the lower decks it's hot, it is very hot;" explained Captain Mario Valente, Commander of Brindisi
Coastguard. "But we're trying to see if there are any victims. Investigators are still searching. We have never stopped and we are going ahead."
Rescuers took two days to extract 477 people from the stricken ferry.
So far eleven deaths have been reported, and 19 people are missing.
The chief investigator fears that many bodies of undocumented migrants could be found in the hold.