Fifth large object located in search for AirAsia jet
Comments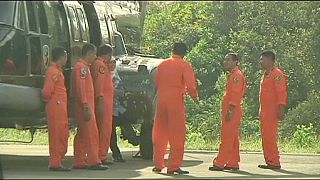 Indonesian search and rescue teams hunting for the wreck of an AirAsia passenger jet say a fifth large object has been discovered on the seabed.
The find comes as multinational efforts continue to locate the plane's black boxes and the bodies of more of the162 people on board.
There were no survivors.
Ambulances carry only the remains of those recovered from the Java Sea after Flight QZ8501 crashed a week ago, after taking off from Indonesia's second largest city Surabaya en route for Singapore.
The Indonesian transport ministry has said the plane didn't have permission to follow the route it took on the day of the crash.
It is thought it may have stalled as it climbed steeply to avoid bad weather