US slaps extra sanctions on North Korea in response to Sony hack
Comments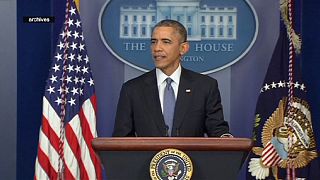 US President Barack Obama has authorised additional sanctions against North Korea in what he said was the first US response to the cyber attack on Sony Pictures Entertainment, the White House said.
The sanctionsnamed three entities as well as 10 North Korean government officials, including individuals working in Iran, Syria, China, Russia and Namibia, according to the Treasury Department.
It was not immediately clear what relationship the three entities, which were already under sanction for their links to Pyongyang's nuclear weapons program, had to the Sony hacking, although Washington said the Reconnaissance General Bureau, the military intelligence service, ran the North's cyber operations.
The 10 named individuals were not part of the North's top leadership and were linked to the companies that have already been sanctioned.
Pyongyang has been sanctioned by the United States since the 1950s and those measures have been tightened in the wake of the country's three nuclear weapons tests.