Asia celebrates in style the start of 2015
Comments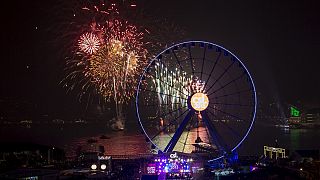 Several countries across Asia welcomed in 2015 with fanfare and high spirits, but the celebrations were toned down in many parts in deference to Indonesia's AirAsia crash and flooding across much of the region.
Hong Kong saw in the new year in spectacular fashion at midnight, with the traditional pyrotechnics show over Victoria Harbour.
In Japan, thousands of people gathered in the capital Tokyo at the Zojoji temple to celebrate.
As the country entered the new year, people took turns to toll the huge bell in the Buddhist temple while others took their clothes off for a cleansing dip to celebrate.
North Korea staged a fireworks display in Pyongyang as part of its celebrations to mark the New Year.
Thousands of North Korean people watched the fifteen-minute long fireworks display at Kim Il-sung Square but their leader Kim Jong-un was not seen at the event.
In Beijing, the Chinese capital borrowed from its bid to host the 2022 Winter Olympics.
China's capital has been working on the city's bid to host the 2022 Winter Olympics, and its New Year celebrations took from its Olympics legacy.
The countdown celebration event lasted four hours on December 31 leading up to the New Year, and consisted of winter sports demonstrations and art performances.