Kremlin critic detained at rally held in protest over sentence against him
Comments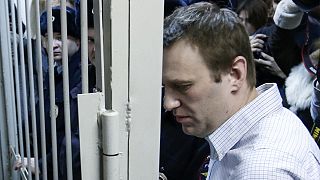 A critic of the Kremlin has been detained at a rally that was called to protest against a suspended sentence he was given.
Blogging activist Alexei Navalny is reported to have been returned home, where he has been under house arrest.
The 38-year-old was found guilty of fraud hours earlier and given a suspended jail term by a court in Moscow, while his brother was also sent to prison.
Hundreds of people gathered for a protest near the Kremlin and numerous arrests have been made.
Navalny led demonstrations against President Vladimir Putin three years ago. His supporters say the case against him was part of a campaign to silence dissent.
Navalny's brother, Oleg, was also charged and he has been jailed for three and a half years.
Alexei asked the judge: "Are you not ashamed of what you are doing? Why is he (my brother) going to jail? What a disgusting act. This is being done to punish me even more."
Alexei's suspended sentence is also for three and a half years over accusations of embezzlement.
The brothers denied charges of stealing money from two companies.
Alexei is already currently under house arrest for another five-year suspended sentence. That conviction last year was also dismissed by supporters as politically motivated.
The Kremlin denies it has any influence over judges, or has the power to order cases to be opened or charges to be laid against opponents.
Supporters of the Navalny brothers, including the protest rock group Pussy Riot, called for a protest near the Kremlin.
Alexei tweeted to his supporters that he was on his way to the planned protest, despite his house arrest. He posted a photo of himself on the metro.
Домашний арест-это да, но сегодня мне очень хочется быть с вами. Поэтому я тоже еду. #Манежкаpic.twitter.com/xkWGX0Hp4F

— Alexey Navalny (@navalny) December 30, 2014
Сексизм какой-то. И эксплуатация женской сексуальности http://t.co/T3zEHckWT7

— Alexey Navalny (@navalny) December 30, 2014
Mother goodbyes Oleg Navalny before handcuffed as his brother Alexey released on probation http://t.co/9ogu5EUKwxpic.twitter.com/p7tFh1sCkY

— Feldman (@EvgenyFeldman) December 30, 2014
"You should go because it's also about our common fate," MBK on the demonstration to support the Navalny brothers http://t.co/ri7pgLWi9L

— Khodorkovsky Center (@mbk_center) December 30, 2014
Revisit juliaioffe</a>'s story on Alexey <a href="https://twitter.com/navalny">navalny's cyber-crusade against Russian corruption: http://t.co/0N6r1Szmpm

— The New Yorker (@NewYorker) December 30, 2014
With suspended sentence & brother's jailing, #Russia tries to keep Navalny on a short leash. http://t.co/TBB18G1Ni7pic.twitter.com/VgavCFnaej

— Kenneth Roth (@KenRoth) December 30, 2014
The Verdict Against Alexei and Oleg #Navalny on Social Media: http://t.co/cT1l8riofb#russia (photo via BBCSteveR</a>) <a href="http://t.co/hrsnMRPi2E">pic.twitter.com/hrsnMRPi2E</a></p>&mdash; The Moscow Times (MoscowTimes) December 30, 2014
Read this AP Big story! "Putin foe navalny</a> found guilty of fraud &quot; - by <a href="https://twitter.com/NatVasilyevaAP">NatVasilyevaAPhttp://t.co/USyTTpLDoo

— Sara Holmberg (@sholm) December 30, 2014
#UPDATE: Kremlin critic Alexei Navalny calls for protests after brother jailed http://t.co/W0ovCfRiMS

— Agence France-Presse (@AFP) December 30, 2014