Alexei Navalny, scourge of Russia's corrupt elite
Comments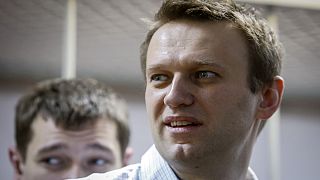 In his recent annual address Russian President Vladimir Putin insisted anyone was free to enter politics in Russia. Well, tell that to
Alexei Navalny, who in recent years has emerged as the opposition's figurehead, and has been dragged through the courts for his pains.
Corruption is the most important issue on today's political agenda.
The charismatic orator burst onto the scene in the 2011 legislative elections, railing against corruption and accusing Putin's United Russia party of being a party of "thieves and swindlers".
A Business Law graduate, Navalny began in the liberal Labloko party, but was thrown out for his nationalist positions. Specifically, he objected to immigration from the former Soviet republics, insisting Russia needed to get its house in order first.
He has ceaselessly tried to take on Putin at his own game, contesting his legitimacy as the defender of Russians' best interests.
On his 'Rospil' website, along with his legal team, he hunts down and exposes corruption, dissecting accounts and government tenders, publishing incontrovertible proof of corruption, and naming names. While he is adored by many in the intelligencia and residents of Moscow and St. Petersburg, a November poll said 51% of Russians did not know who he was.
"I am involved in investigating corruption and in Russia this is a completely political activity. Corruption is the most important issue on today's political agenda. I won't dissemble and say I am dealing with corruption but not dealing with politics," he says.
Such is the rigour of his investigations the Kremlin has found it hard to nail him. He combines classic political strategy with new methods, such as buying shares enabling him to attend shareholders' meetings and call for more transparency in the semi-privatised gas and oil sector.
In 2013 Navalny stood in the Moscow municipal elections, winning 27.2% of the vote and second place. It confirmed his position as the leader of the opposition.
But that was a victory too far for the Kremlin, which forced him onto a new battlefield, the law courts. He was accused of stealing over 400,000 euros worth of timber whilst a councillor for the Kirov governor in 2009, and in 2013 was found guilty and sentenced to five years in a labour camp.
He was freed just 24 hours later as he was in mid-campaign for the Moscow mayor's job, but he was ordered not to leave the capital.