Mexico: Protests mark three month anniversary of missing students
Comments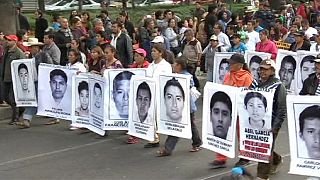 The relatives of 43 missing Mexican students protested in several cities across the country to mark three months since their disappearance.
At a demonstration in Mexico City an estimated two thousand activists demanded justice for the missing who were reportedly taken by local police and members of a drug gang.
"There are 43 people who aren't with us and so long as this continues the Mexican people will continue to rise up. We want to remind President Peña Nieto what we warned him about. If there's no Christmas for us then there's no Christmas for him either," said Felipe de la Cruz, spokesman for the relatives of the missing student teachers.
Omar Garcia, a student leader at Ayotzinapa school believes his companions are still alive and being held captive for ransom:
"The night of September 26 hasn't ended. It has stood still for us. Nothing was clear that night and that is still the case."
Meanwhile in the city Iguala where the students disappeared, a march turned violent with protesters attacking the gates of the city's military base.
Investigators have been searching the state of Guerrero and so far have found 15 mass graves. However, only one of the missing students has been identified.