High security in Bethlehem as people gather for Christmas eve celebrations
Comments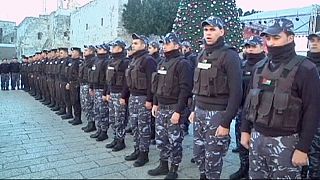 There is high security in the West Bank town of Bethlehem for the height of the festive season.
Revered as the place where Jesus was born, people are preparing for Christmas eve celebrations.
Locals and overseas visitors flock to the town's nativity square.
"It's a holy day for all of the Christians," said a resident of Shafa Amr. "Jesus was born here so we're here to celebrate with all of our loved ones and friends and feel how lovely Palestine is. Merry Christmas."
A Canadian tourist said: "We came here to celebrate Christmas. At home in Canada it's very commercialised, a lot of Santa Clauses.
"We wanted to come and enjoy the spirit of the birth of Christ and Bethlehem is fantastic, a very nice place. We arrived yesterday, it's peaceful, everyone's very warm and friendly to us."
Latest clashes between Palestinians and Israeli forces in the West Bank took on a Christmassy feel.
Several people dressed as Santa Claus gathered at a Bethlehem checkpoint.
This as the Palestinian President warned he will cut ties with Israel if a UN Security Council resolution on statehood fails.