Ukraine to seek NATO membership and step up military presence in war-torn east
Comments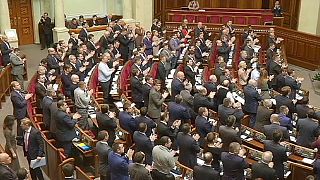 Ukraine's parliament has voted to drop its official neutrality in international relations.
President Petro Poroshenko pledged on Tuesday to seek NATO membership although it is not clear how soon Kyiv would apply or if it would be accepted.
More than 300 MPs voted in favour of the law. Hryhoriy Nemirya from the"Batkivschyna" party said: "The abolishment of non-aligned status determines who we are, where we are going to, what our aim is''.
Just eight voted against. Of those, Oleksandr Vilkul from the"Opposition Bloc" party said: "This decision of the ruling coalition will bring nothing but increasing of tension among people of Ukraine. The most effective model for our country is a model of non-aligned status".
Euronews correspondent in Kyiv Maria Korenyuk explained "The abolishment of non-aligned status doesn't guarantee that Ukraine will join NATO soon. In order to fulfill the NATO criteria, a significant amount of work should be done by the Ukrainian government. First of all, it should bring its army to the NATO standards and persuade Alliance member states that Ukraine's place is in the Euro-Atlantic bloc".
Meanwhile the Kyiv government announced it was stepping up its military recruitment campaign for 2015 to deal with the conflict in the east.
It will begin by mobilising 50 thousand new recruits in January.